One of the things people like to ask about physics is, "What is the meaning of it all?" What does physics tell us about metaphysics--the ultimate reality behind all that is? Does Special Relativity support Moral Relativism? Does Quantum Mechanics provide a mechanism for consciousness or miracles? Does the Big Bang Theory prove God? No, no, and no.
In general, I feel the answer is that, no, physics does not tell us much about metaphysics. Furthermore, people who try to connect physics and metaphysics are often engaged in gross abuse of the science. Much more often, physics only helps us realize how much we
don't
know about metaphysics.
I've already tried to explain Special
Relativity
(Explained:
1
,
2
,
3
), so I'm going to use it as an example to demonstrate my point.
First off, Relativity is not even related to Moral Relativism, or indeed any sort of subjectivist philosophy. They have nothing to do with each other. Yes, Relativity suggests that different observers can have different perceptions of time and space. But "observer" is a technical term that ultimately has no connection to humans, much less human ethical theory. Similarly, the details of time and space have little to do with ethics. If I say that time and space depend on your frame of reference, "frame of reference" is a technical term that depends on your velocity, not your point of view. People seem to think that Relativity tells us, "It all depends on your point of view," but the more accurate statement is, "It all depends on your direction and magnitude of motion." I guess that just doesn't have the same ring to it.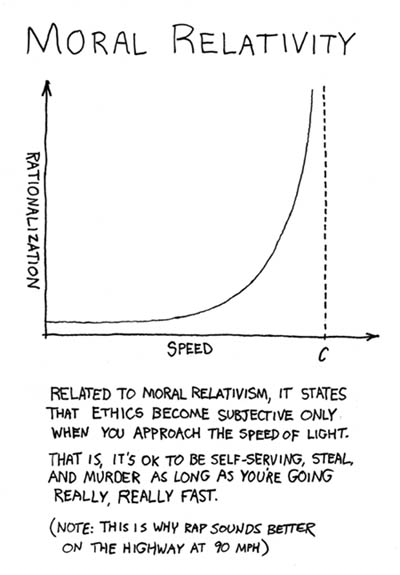 Another problem with the idea is that Special Relativity
doesn't
say everything is relative. Previous to Special Relativity, we used what we retrospectively call Galilean Relativity. In Galilean Relativity, the distance between two objects, and the time between two events would always remain the same, no matter your frame of reference. Time (Δt) and distance (Δx) are what we call "invariants". In Special Relativity, there is an invariant that combines space and time: what we call the "interval".* That means that though space and time are relative, space-time, taken as a whole, is not. Changing reference frames is analogous to rotating a keyboard (only you're actually rotating space-time). You may have changed the positions of the keys, but the shape of the keyboard stays the same. You may have changed space and time, but some things about space-time never change. For example, the speed of light always remains the same.
What Relativity
does
tell us is that our intuition of time and space can be incorrect. Our common experiences bias us towards thinking that time is absolute and independent of space, but that's not necessarily the case. Therefore, if you want to philosophize, you should be careful about your assumptions about time and space. If you want to talk about the cause of the universe, you should be careful with ideas like "before" and "after", since these concepts may or may not exist independently of the universe. Furthermore, in these matters, I think it is irrelevant whether Relativity is in fact true. Relativity is just a heads-up to philosophers to be careful with hidden assumptions. Ideally, philosophers would realize this without science's help, but whatever it takes.
*For the record, the equation for the interval is (ΔS)
2
= (Δx)
2
- (cΔt)
2